Operation Raleigh Expedition 10F was based in central Seram. All participants arrived in Wahai on the island's north coast and then made their way on foot to base camps that had been established on the coastal plain and in the mountains to the south.
The coastal plain, drained by the rivers Wae Toluoreng, Mual and Isal, is a large, more or less flat, alluvial plain, stretching inland from the north coast. Between December and February much of this area is seasonally inundated and there are permanent swamps near the mouths of the three rivers. There are a number of small hills (mostly less than 100m altitude) scattered across the plain.
About 30km inland from the north coast and almost parallel to it, there is a very steep sandstone ridge, the highest point of which is Gunung Kobipoto, at approximately 1500m. The southern side of the Kobipoto ridge descends to a flat-bottomed valley which forms an enclave at 600-800 metres above sea level. This enclave contains the villages of Kanikeh, Salimena and Manusela. These villages can only be reached on foot – there are no roads into the mountains.
The Kanikeh-Manusela valley is separated from the south coast by the precipitous Merkele Ridge, which includes the highest mountain in the Maluku Province, Gunung Binaia (2940m). Where the mountains meet the north coast at Sawai there are some impressive limestone cliffs.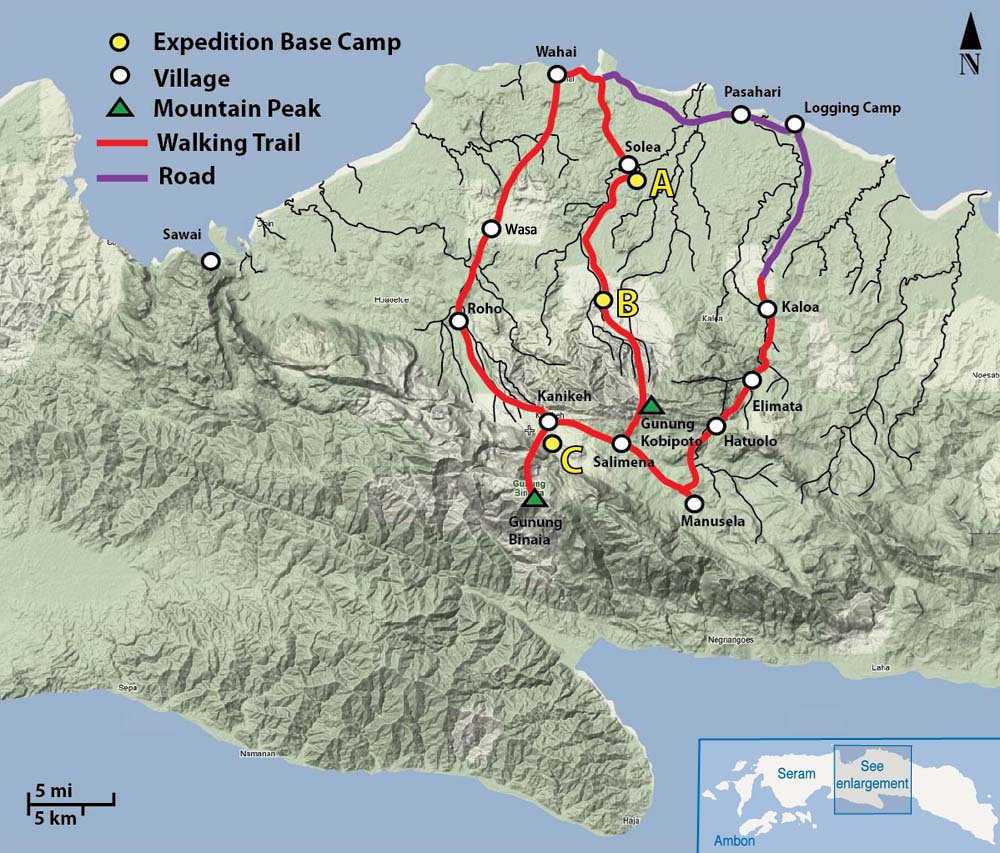 Map of central Seram showing villages, expedition base camps and the trails we walked.