… the spirit and inspiration of Operation Raleigh Seram
by Steve Oliver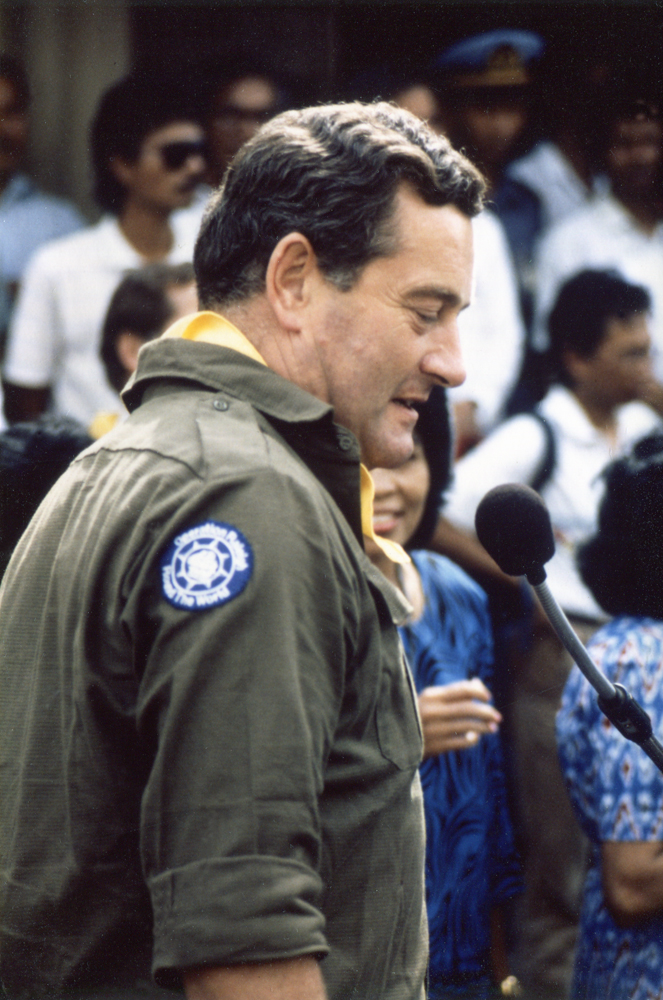 Wandy Haswell William Swales was born on August 27 1933 at Newcastle upon Tyne, the son of an artillery officer. He was educated at Durham School and represented the county at Rugby, Football and Cricket. In 1952 Wandy joined the Royal Marines as a National Serviceman, serving in Libya, Greece and the Mediterranean. He was the only National Service Marine to be a member of the Guard of Honour at the Queen's Coronation in 1953. Subsequently, he was commissioned into the Parachute Regiment TA.
As a sportsman Swales was a skilled all rounder. During his Territorial Army career he was a finalist in the TA light heavyweight boxing competition. He also played rugby on the wing for Northumberland and in 1959 – 60, for London Irish (their only unbeaten season since the war). He took part in the Devizes-Westminster canoe race on two occasions, finishing in the first 10 at his first attempt. He was also a keen yachtsman and, as a member of the Royal Ocean Racing Club, he completed numerous races including the 1989 Fastnet Race. In 1966 he climbed the Matterhorn.
Leading the way
Wandy joined the staff of Operation Drake in 1977. This charity, which later developed into Operation Raleigh, organized adventure trekking for young people. Wandy set up the main base in Sulawesi, where he established good relationships with tribes living in hitherto unexplored rainforest of Indonesia. In 1982 he became the Chief-of-Staff at Operation Raleigh working as No 2 to Colonel John Blashford-Snell, founder of Operation Drake and Raleigh. Wandy led both of the Operation Raleigh expeditions (10F and 11E) to Seram.
Wandy then left Operation Raleigh to found his own company 'Swaletreks'. This later turned into the charity 'The International Scientific Support Trust'. This in turn became 'Trekforce Expeditions', a non-profit making concern organizing expeditions to support science, conservation and social projects in Belize, Kenya and Indonesia. The early 1990s saw an increase in the popularity of expeditions and since its foundation more than 1,000 people, mostly young volunteers, have taken part in Trekforce expeditions.
Trekforce placed an important emphasis on leadership and expedition staff at that time included Bruce Parry, Ed Stafford and a host of ex-Seram staff … Steve Oliver, Gillian Fairweather, Alastair Macdonald, John Proctor and Douglas Warner. Lody and Rackman, two of the dedicated Indonesian staff to name a few, helped to carry on the great work started by Operation Raleigh in Seram.
An inspiration to others
Wandy died in December 1997 of a heart attack aged 64 with his boots on, while walking with friends in Exmoor. To many he was the spirit and inspiration of Operation Raleigh Seram. He was one of the late and great original explorers. Like every other explorer, he led by example and inspired all those he came into contact with. He was a popular and outgoing man with a keen sense of fun and his spirit lives on.
In the Operation Raleigh book 'Adventure Unlimited', Wandy christened the two Indonesian Operation Raleigh Phases as the 'Impossible Expeditions'. The fact that they were not only possible but a great success, is a tribute to Wandy and to the support of each and every member of the International and Indonesian teams and associated guides and porters.